Would you like to improve the overall look of your smile? Whether you've neglected your oral health in the past or your teeth just don't look the way you think they should, cosmetic dentistry can help to perfect your smile into something you'll love to show off. Even better, for most of our patients, the benefits go well beyond aesthetics. Choosing these services may also help you improve your overall oral health!
What to Expect From Cosmetic Dentistry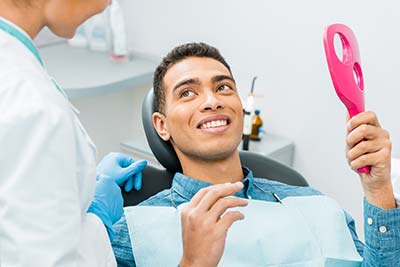 Cosmetic dentistry includes any dental treatment designed to improve the appearance of your teeth, gums, and face. Our treatments help with everything from tooth discoloration and alignment to the size of your teeth and gums. It can also improve misaligned bites, too!
Some of our most common cosmetic dentistry treatments include:
In-Office & Take-Home Opalescence® Teeth Whitening
Porcelain Dental Veneers
Dental Bonding
Crowns
Inlays and Onlays
Implants
Anti-Aging Injections
Treatment plans range depending on your needs and how you want your smile to look. Smaller changes such as removing light staining can be accomplished in a single whitening visit. Other, more involved procedures such as dental implants, may take several months.
Anti-Aging Fillers and Injections
Turning back the clock doesn't end with a brighter smile. Seven Hills Dentistry also offers the latest in anti-aging injections and fillers that help to alleviate wrinkles, crow's feet, and smile lines. These services are successful in treating headaches and jaw pain associated with TMD, as well.
Porcelain Veneers
Do you suffer from discolored, cracked, or gap-filled teeth? Porcelain veneers can address each of those problems - in as little as 2 appointments! Dental veneers are ultra-thin porcelain shells that are cemented to your front-facing teeth. Each veneer is custom-crafted and custom-shaded to fit the rest of the smile perfectly. With proper care, yours could last decades!
If you have the following aesthetic concerns, dental veneers could correct your smile:
Cracked or broken teeth
Stained, discolored, or yellow teeth
Crooked teeth
Gaps between teeth
Invisalign®
Straightening crooked teeth does a lot for a patient's self-confidence. With state-of-the-art clear adjustment trays, the Invisalign® system offers our patients a discreet way to safely correct misaligned smiles. From young adults to dedicated professionals, everyone can benefit from this teeth-straightening treatment. You won't have to change your diet and most people won't even realize you're wearing them!
Opalescence® Teeth Whitening
Over time, stains and discoloration can occur on the teeth for multiple reasons, including eating dark or staining foods, tobacco use, medication, and advanced age.
To help remove these unwanted stains and discoloration, we offer Opalescence teeth whitening, a system that delivers rapid, safe, effective results! For your convenience, this professional teeth whitening system is offered both in-office (as a 60-minute painless treatment) or as a take-home kit!
Perfect Pearly Whites at Seven Hills Dentistry
If you're in Dallas, GA and want to learn more about the cosmetic dentistry treatments offered at Seven Hills Dentistry, call us today to schedule a consultation!