When you need restorative or cosmetic treatment that requires oral surgery, Seven Hills Dentistry is ready to provide quality care in a relaxed and comfortable environment.
Extractions and some other preservation methods can include a minor oral surgery procedure. Our doctors are highly trained in small procedures including teeth, gums, and jaw bone. For those patients anxious about surgical procedures, remember to discuss our sedation options during your consultation as well!
Wisdom Tooth Removal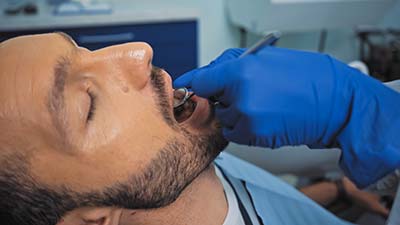 The four permanent teeth that reside in your mouth can pose significant problems if they aren't taken care of early. Most people simply don't have the room required to let large molars erupt and set into place comfortably without risking orthodontic issues. Our clinicians will help alleviate discomfort, and with x-rays, we can get a better understanding of the patient's developing jaw. During your consultation, our dentists will help determine when is the right time to remove the unnecessary wisdom teeth.
Dental Extractions
Sometimes a tooth just has to go. Using outpatient treatments, most teeth can be removed quickly and easily. More complex issues, such as a broken tooth that sits below the gumline, require a simple surgical procedure to effectively remove the tooth. Reasons for needing a dental extraction include:
Preparation for braces
Damaged or exceedingly decayed dentition
Reduce overcrowding
Treatment of infection
Impacted tooth removal
Dental Implants
An effective and long-lasting treatment for lost or missing teeth, dental implants provide our patients with a permanent solution to a common problem - tooth loss. Implants are constructed from titanium, allowing them to be incredibly resilient as well as facilitate jaw bone growth. This results in a strong root that can be used to anchor a dental crown, bridge, and even a full set of dentures!
Frenectomy
The frenum is a piece of connective tissue that attaches the gums and lip to your mouth. When it has become damaged or develops incorrectly, the condition can make speech difficult and may even inhibit babies from feeding properly. Seven Hills Dentistry uses a laser to carefully cut away the excess tissue in a virtually painless procedure that will have you back to your day in no time!
Sinus Lift
Bone density is important for reconstruction and dental implants, and a sinus lift allows clinicians to perform a bone graft, creating a solid support structure for the rest of the treatment. Most patients can even return home soon after this outpatient procedure.
Trusted Oral Surgery at Seven Hills Dentistry
Providing comfortable and efficient surgical procedures is something that Seven Hills Dentistry strives to achieve. If you live in the Dallas, GA area and are in need of dental surgery, call our office to schedule an appointment today!