If a picture is worth a thousand words, you want your smile to say all the right ones. That's why Seven Hills Dentistry doctors keep teeth healthy but also make them look beautiful, too. We schedule smile makeover treatments that give our patients the grins they deserve!
Smile Makeovers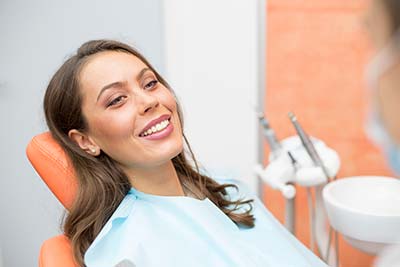 Many people go through life keeping their smiles hidden away thanks to unsightly stains, damaged enamel, and crooked teeth. While some of these issues may seem cosmetic, they can also cause significant problems if left untreated. Overbites and misaligned teeth may cause difficulties in speech, and dark stains might disguise decay.
Choosing to beautify your smile improves both your appearance and your health. Our staff uses a variety of services designed to combat a number of conditions, such as:
Enamel Discoloration: Stains can happen naturally over time, even to the most attentive of people. Our in-office and take-home Opalescence® teeth whitening treatments help smiles return to their natural luster. Many patients notice improvements after a single treatment.
Missing Teeth: A lost tooth can cause a host of problems. Our team will discuss options to help give you back a full smile using bridgework, implants, or dentures.
Large Gaps/Chips: Spaces between teeth can be repaired using porcelain dental veneers, covering the space with false fronts fashioned to present the look of natural teeth. Cracks and chips can be covered and protected in much the same way.
Fine Lines/Wrinkles: There's no need to keep your wrinkles under wraps. Our office uses specialized anti-aging injections and fillers to restore your skin's youthful appearance.
Crooked Teeth: For many patients, the thought of metal braces has kept them from improving their grins. But with the revolutionary Invisalign® system, patients receive effective orthodontic treatment using crystal-clear, discreet aligners.
Sedation and Relaxation
A true makeover shouldn't be an anxiety-inducing experience. The team at Seven Hills Dentistry understands that, for some people, the dentist can feel like a scary place. We are dedicated to providing our patients with the most comfortable and calming experiences possible.
With sedation dentistry services, we may use laughing gas or oral conscious sedation, depending on your unique needs. During your consultation, discuss any concerns with our clinicians and we will help find the sedation level that works best for your smile makeover!
Designing Smiles at Seven Hills Dentistry
Don't let dental dissatisfaction hold you back. If you're not happy with your current smile, our smile makeover services could be just the solution you're looking for. Call us and schedule your consultation today!