Are crooked teeth keeping you from showing the world your smile? Fortunately, the orthodontic team at Seven Hills Dentistry has a clear solution with Invisalign clear braces!
Using transparent aligner trays, this treatment plan is an excellent alternative to traditional metal braces. Now everyone from students to professionals can work towards healthier, even teeth in a process in as little as 12 months!
Invisalign Essentials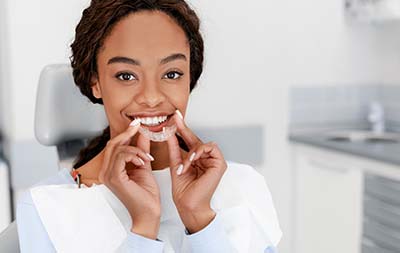 People have been using metal braces to straighten teeth for generations. While current methods are a vast improvement over some older treatments, many patients are still wary of filling their mouths with uncomfortable metal brackets and sharp wires. Invisalign does away with the permanence and discomfort of traditional treatments while remaining virtually invisible as it works!
We address the following conditions at our Dallas, GA dental office:
Misaligned dentition
Overbite/underbite correction
Closing gaps
Adjusting an open bite
Crowded and misshapen teeth
During initial consultations, our clinicians will take 3D scans of your mouth to virtually replicate your current smile. State-of-the-art imaging programs then allow us to craft a treatment plan using a series of orthodontic trays. These removable, clear braces slide in place over your teeth and gently push them into the appropriate position. Patients remove the clear aligners at mealtime and put them back into position after brushing. With each new tray, you're one step closer to the smile you've been working towards!
Benefits Over Braces
The Invisalign system corrects many of the same issues addressed by metal braces. While traditional metal braces may be more effective in certain situations, clear aligners have a lot of advantages over their metal counterparts.
Comfort: Traditional braces use metal wires and brackets that can poke and scrape the inside of your mouth. Because Invisalign trays are made of soft, yet rigid plastic, much of the discomfort is eliminated. It's also easier to maintain great oral hygiene habits, too!
Convenience: One of the best things about clear aligners is that they are removable. This means you can continue your current oral care routine without adjustments or interruptions.
Dietary Freedom: Traditional braces require you to be careful about what you eat. Sticky or hard foods such as gummy candies and popcorn can damage traditional metal braces or put you at an even greater risk of cavities. Since trays are removed while you eat, you don't have to make any changes to your diet aside from brushing after meals and snacks.
Aesthetics: To many, braces are just plain ugly. The Invisalign® system's clear trays are specifically designed to disappear once inserted, making it very difficult for anyone to tell that you're wearing anything over your teeth at all!
The Choice is Clear at Seven Hills Dentistry
Ready to straighten your smile the discreet way? Call us today to schedule your Invisalign consultation!